Buy the
Afinia L501

from DuraFast and get:

*use the discount code at time of printer purchase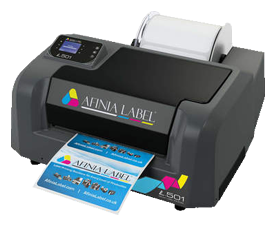 DISCOUNT CODE: L501
Enter this discount code at time of checkout. Just add the L501
labels to the shopping cart at time of printer purchase

Afinia L501 Color Label Printer with Dye Ink
This Afinia L501 dye ink color label printer is equipped with the dye printhead and CMYK dye ink cartridges. This L501 setup allows you to print vibrant, high resolution, full color product labels (or "prime" labels as they're often called). You can also swap out the printhead and inks with the L501 pigment printhead and inks. More on that below
Product Label Printing with the Afinia L501 Dye Label Printer vs the VIPColor VP485
The Afinia L501 dye ink color label printer features the latest HP print engine for blazing fast print speeds and reduced ink costs. Use the L501 with dye ink cartridges to produce beautiful coffee and tea labels, wine labels, beer labels, water bottle labels, and more.
The dye ink version of the Afinia L501 color label printer competes with VIPColor's VP485 color label printer, an older model that's quite slow in comparison and limited as to which Windows-based applications it will work with. The L501 works with most any application.
Using the latest HP print engine, the Afinia L501 has the clear advantage both in speed and in its reduced ink consumption. It's faster and cheaper to operate thanks to a lower ink cost per label. The Afinia L501 is also reportedly more reliable and easier to use than the VP485.
Duo Ink Technology Doubles the Value
The Afinia L501 label printer has one more advantage: Duo Ink Technology. This version is set up as a dye ink label printer, but it can easily be converted into a pigment ink label printer simply by changing out its printhead and ink cartridges. All you need is the L501 pigment printing kit.
We stock all of the L501 pigment and dye ink cartridges as well as a large selection of L501 label media.
Watch the video below to see the Afinia L501 dye ink label printer in action.
After buying this label printer from DuraFast...
*7 days after your printer is shipped to you, you will get an email from Verified Reviews to do a review on DuraFast Label Company and also this Printer. Once both reviews are done, we will credit your online account $100 towards label purchase.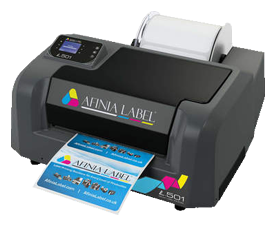 1 Year Depot Warranty