Posted by BK on 14th Apr 2020
Best Epson EcoTank Work From Home Printers on Sale with Free Shipping
Working from home is a great way to help fight the spread of coronavirus, but it does require the right home office equipment. Personal inkjet printers, for example, are simply not up to the task of full time office work. Plus, their hunger for ink cartridges may leave you out of ink more often than you'd like.
Fortunately, DuraFast Label Company's favorite Epson EcoTank work-from-home printers are on sale with free shipping to continental USA and Canada. With two years of ink included in the box, your new Epson EcoTank printer is sure to get you through the crisis with plenty of ink to spare.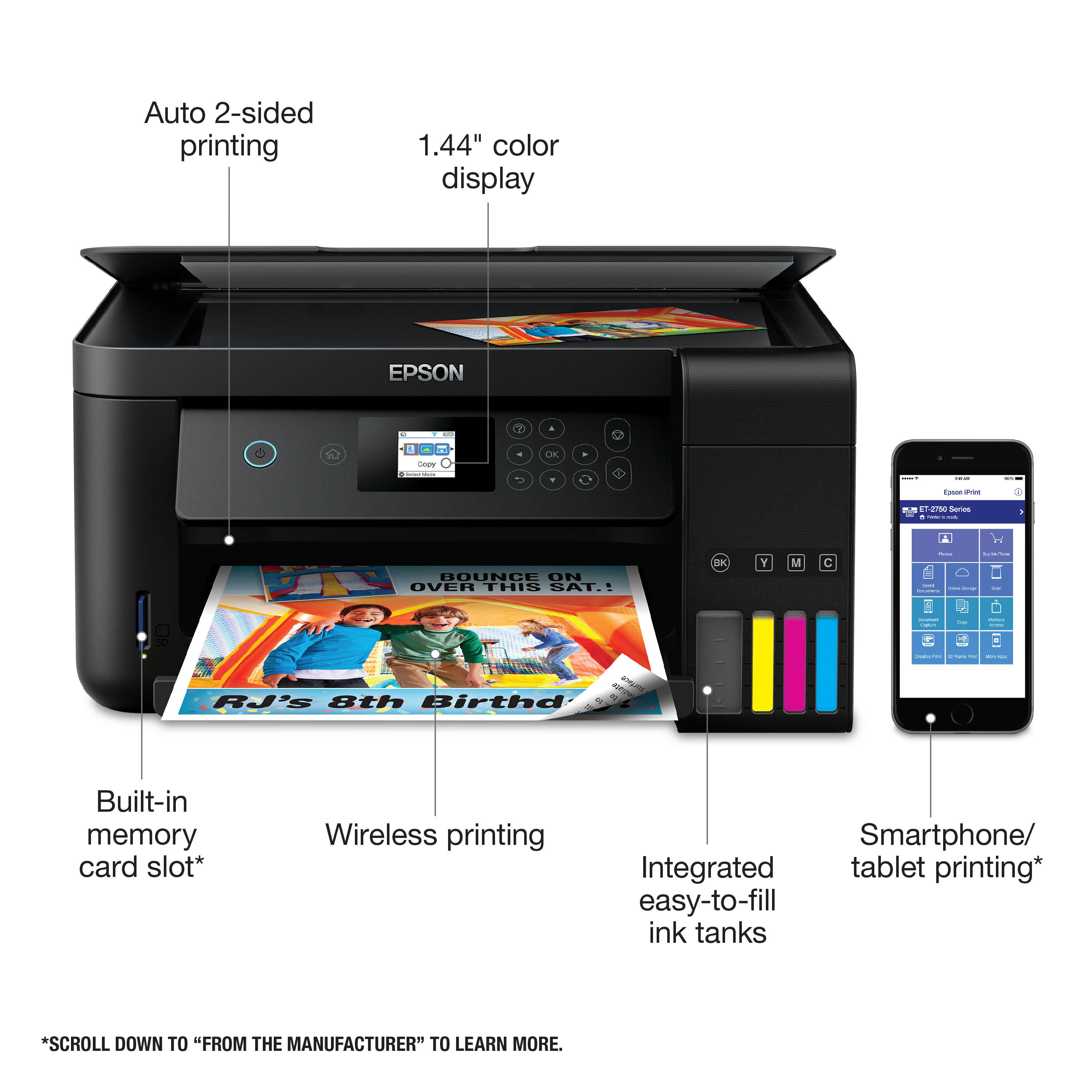 Epson ET-2750 3-in-1 Printer
If you're on a budget, we recommend the Epson ET-2750 all-in-one supertank printer . This is 3-in-1 printer prints, copies, and scans and contains a two-year supply of ink. Windows at the front of the printer show you exactly how much ink of each color the printer has. Refilling the ink tanks is easy and mess free.
A 1.4-inch color display panel offers easy setup and printer controls. You can edit and print photos from the front navigation controls without having to turn on the computer. Simply insert the camera's SD card into the slot and edit or print your photos.
The Epson ET-2750 all-in-one supertank printer features wireless and remote printing and has a print resolution of up to 5760 dpi. You can also use Amazon Alexa for hands-free, voice-activated printing. The Epson ET-2750 prints 5 ISO color documents per minute and 10.5 black ISO documents per minute. Automatic two-sided printing adds to the economic benefits of the Epson ET-2750 by reducing the amount of paper used.
Powered by PrecisionCore Heat-Free technology, the Epson ET-2750 has fast first page out and is Energy Star qualified.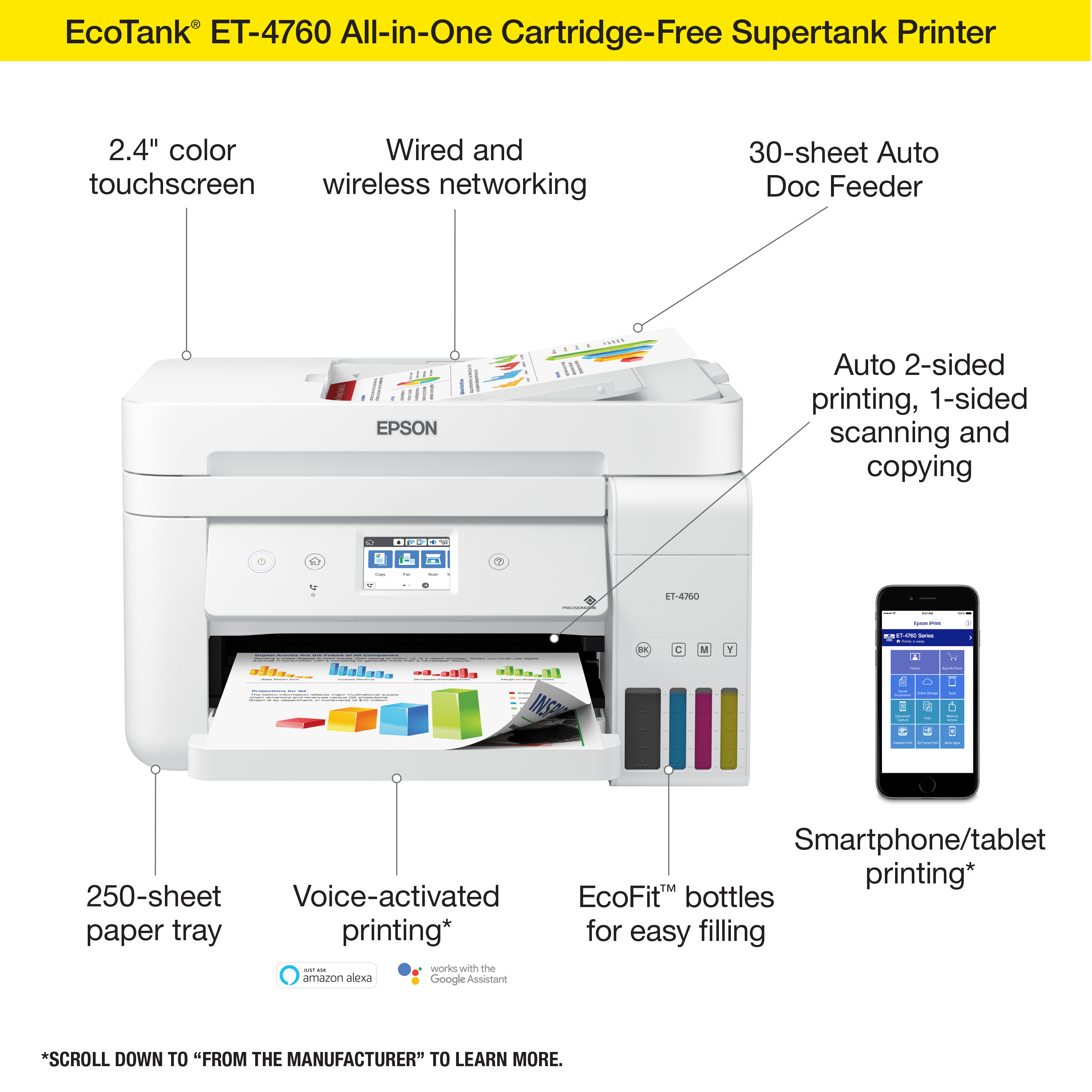 Epson ET-4760 4-in-1 Printer
If you're looking for even more features, we recommend the https://www.durafastlabel.ca/photocopiers-office-printers/epson-ecotank-et-4760-all-in-one-cartridge-free-supertank-printer-white/. This 4-in-1 wireless color inkjet printer prints, scans, copies, and faxes. Like the ET-2750, the ET-4760 comes with a two-year supply of ink. Monitoring your ink usage is a simple matter of visually checking the ink tanks at front of the printer. When a color runs low, refilling it from the bottle is a simple, mess-free process.
The Epson EcoTank ET-4760 has a 2.4-inch color touchscreen display, automatic document feeder, and 250-sheet paper tray. It offers Ethernet and wireless connectivity including mobile, remote, and hands-free, voice-activated printing. The Epson EcoTank 4760 printer prints full color documents at up to 4800 dpi. The Epson ET-4760 is powered by MicroPiezo technology and has a PrecisionCore 1S printhead. The ET-4760 is also fast, printing 4.5 color ISO pages and 15 black ISO pages per minute.
Order an Epson EcoTank Work From Home Printer Now
See Video About The Epson ET-2750 EcoTank All-In-One Printer