Epson Label Printers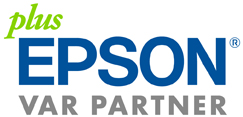 Epson Label Printers | GHS Label Printers | BS5609 Label Printers | Drum Label Printers
DuraFast Label Company is an Epson Envision Premier Partner and offers the complete line of Epson ColorWorks label printers including GHS label printers like the Epson TM-C7500 GHS, TM-C3400, TM-C3500 and GP-C831 GHS drum label printers as well as non-GHS label printers uses for applications like food, cosmetics, and retail product labels such as Epson TM-C7500G label printer.
Each member of the Epson ColorWorks family of label printers shines in its own right. Whether you need to print large format GHS labels, eye-catching product labels, or instant-dry labels and tags for your business operations, we have Epson label printers designed for the task at hand.
For example, if you're looking for a great general purpose color label printer for printing everything from branded shipping labels, inventory tags, and carton labels to photo IDs, custom wristbands, event tickets, coupons, or specimen labels, take a look at both the Epson TM-C3400 color label printer or the Epson TM-C3400LT label terminal.
On the other hand, if you need to print your own GHS BS5609 labels, you may want to focus on the Epson GP-C831 color drum label printer, the Epson TM-C3500 label printer, or the Epson TM-C7500 GHS label printer. These Epson label printers are GHS BS5609-certified when used with our corresponding GHS BS5609-certified chemical labels. To maintain GHS BS5609 compliance, make sure to order the right GHS chemical labels for your specific Epson label printer.
Each of the Epson label printers we sell is a leading pigment-inkjet-based color label printer backed by the manufacturer's standard warranty. In addition to selling Epson label printers, we also sell extended warranties, Epson's "Spare in the Air" warranty, onsite service plans, unwinder and rewinder systems, Epson labels, and Epson color label printer accessories.
Explore our selection of Epson label printers below or contact us for help selecting the right Epson label printer for your